History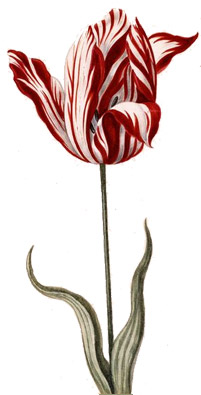 The tulip was originally a wild flower, growing in Central Asia. It was first cultivated by the Turks as early as 1000 AD, The flower was introduced in Western Europe and the Netherlands in the 17th century by Carolus Clusius, a famous biologist from Vienna.
In the 1590's he became the director of the Hortus Botanicus, the oldest botanical garden of Europe, in Leiden. He was hired by the University of Leiden to research medicinal plants and, while doing so, he received some bulbs from his friend, Ogier de Busbecq, the Ambassador to Constantinople (now Istanbul). He had seen the beautiful flower called the tulip, after the Turkish word for turban, growing in the palace gardens and sent a few to Clusius for his garden in Leiden. He planted them and this was the beginning of the amazing bulb fields we see today.
They soon found ways of making the tulip even more attractive and decorative. Hybrids and mutations of the flower were seen as rarities and a sign of high status. In the months of late 1636 to early 1637, there was a complete "Tulipmania" in the Netherlands. Some varieties could cost more than a house at that time. Even working class men took part in the business. They saw how much money the upper class made in the commodity and thought it was an easy way of getting lots of money with no risk. The bulbs were usually sold by weight while they were still in the ground.
A classic house in the centre of Amsterdam was traded against 2 kilo's of Tulip Semper Augustus and a complete cattle farm against five ounces of Tulip. It is said that the tulip became so popular because of its bright colors, dramatic flames and frilly petals. In the 20th century it was discovered that the frilly petals and dramatic flames that gave the flower its stunning look were, in fact, the symptoms of an infection by the mosaic virus. The healthy flower was supposed to be solid, smooth and a single color. The virus came to the tulip from an insect feeding on peaches and potatoes.
Diseased varieties of tulips are no longer sold. What you find today are hybrids that look similar but are genetically stable. To have tulips in a vase at home was a way to show your wealth. Being named after a tulip brought immortality in those days and was a rare gift for Kings and Queens.
Today Blooming Forever puts this Royal gift in everyone's reach.